Fellows Spotlight: Sandra Gillner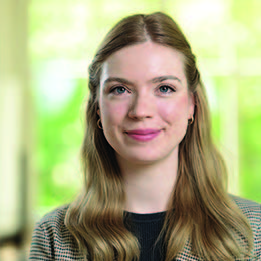 Sandra joined the Center for Regulatory Science as a visiting student in August 2023.
Hometown: Munich, Germany
Research focus: Regulatory issues in rare diseases; gene and cell therapies
What made you consider coming to the Center for Regulatory Science? What are you hoping to learn or achieve during your time here?

Thanks to my PhD program in Switzerland, I am familiar with the European regulatory context. Coming to the Center is a unique opportunity for me to discover synergies between different regulatory regimes, and the challenges we share when regulating innovative therapeutics. In addition, I am fortunate to be collaborating with an interdisciplinary team around Florence Bourgeois, which I hope will challenge me to use new methodologies and adopt new modes of thinking to engage with the Center's fellows and beyond.
What are you excited to bring to the CRS each day?

As my academic parkour has led me to live and study in six different European countries, I am excited to share a fresh perspective with CRS colleagues on not only regulatory science, but shared interests beyond. I am excited to bring a genuine curiosity for the projects and passion of others – as well as, now and again, some Swiss chocolate to share!

What are some goals you are going to continue to work towards, both in your time at the CRS and beyond?

My most ambitious goal is to engage in and contribute to impactful research. Being able to complete my PhD in the area of regulatory science for orphan health technologies is an important stepping stone towards that goal. More generally, I am working towards developing a unique research identity.